Group study rooms
Students at language departments can book the group study room Språkbubblan (E279) for group work or to watch film or TV.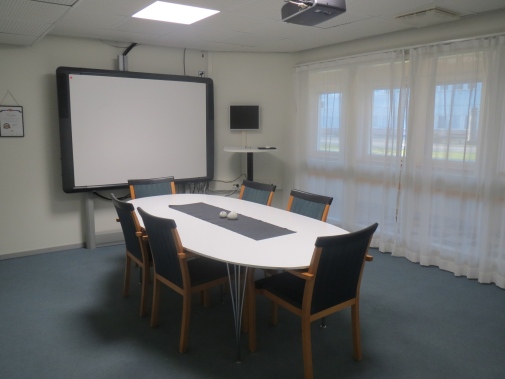 About Språkbubblan
The group study room Språkbubblan (E279) is used for teaching, meetings and assessment at Stockholm University's language departments. It can also be booked by individual students taking language-related courses.
Språkbubblan fits up to 10 people. Chairs and tables can easily be moved or stowed away to accommodate various types of activities.
The projector in the room can be connected to the in-room desktop computer, Språkstudion's DVD player or an external computer. There is also a Logitech MeetUp unit - a combined camera, microphone and speaker unit for use in Zoom.
Book Språkbubblan
Språkbubblan (E279) can be booked for up to three consecutive hours, up to three times per week per study group. Bookings can be made up to one week in advance. To book, visit Språkstudion's front desk or contact us by mail (info@sprakstudion.su.se) or phone (08 - 16 35 40).
Språkstudion on social media