Exchange student participates as resource in Spanish classes
When Marta Reina was an exchange student at Stockholm University she was invited to give a Spanish language presentation at a swedish upper secondary school. In her opinion that is a fantastic way to help students grow into a language.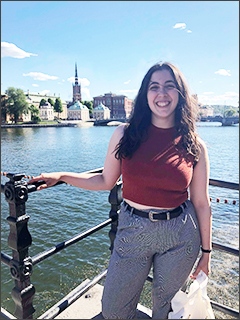 In December 2017 I visited the upper secondary school Blackebergs Gymnasium to give the young students of Spanish language a presentation about my hometown Seville in Spain.
I was offered this opportunity as an exchange student from the Department of Language Education at Stockholm University and decided to accept it as soon as I was told. Not only were they looking for native speakers of Spanish but also of several other languages and in my opinion it is a fantastic way to help students grow into a language.
Those who welcomed and accompanied me during my visit at the school were incredibly attentive and kindly helped me carry out my purpose. As it was my first time leading a class I was extremely nervous, but willing to do my best and learn from the experience in order to do better in the future. However, as the nature of the teachers and groups was rather inviting and relaxed, I was able to give my presentation with no major problems.
I gave the same presentation to four different groups, all of them acting polite and interested. The students had prepared some questions for me and did not seem ashamed to stand up and try out their communicative skills in Spanish, which I was very grateful and impressed by. Along with my presentation, I was asked by the teachers to help them out with some activities and was always invited to stay the whole class. This, specially, was an incredible opportunity for me as a future teacher to learn about other country's educational system, particularly one so praised worldwide.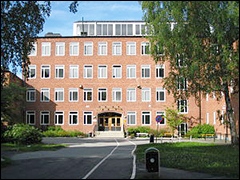 Regarding the building and classrooms, I was pleasantly reassured of the good taste and neat organisational skills that fall into the Swedish stereotype. As for the organisation of the classes, I was surprised to find out about how very little time each course is given a day and about the collaborative attitude of the teaching system, which allows the students to hold a debate with not only their teachers but also their colleagues.
As a bonus one of the teachers was also a Spanish native speaker, he was born and raised in South America, which I thought was really enriching for the students since they were able to compare two different accents and ways to pronounce the same words. To finish this memorable experience, I was given a small present which I was not expecting but was very excited to receive. Therefore, I would recommend the experience to whoever is offered this opportunity.
Marta Reina: Exchange student (2017-2018) from the University of Seville, Spain.